Caorle
Caorle, the historic center, the cathedral and the bell tower symbol of the city, a fresh fish dish, a walk along the reef, in the middle of sculptures and poems. The lagoon, that can be visited by bike or by ferryboat; "Valle Vecchia", a natural oasis for walking or biking, guided tours and birdwatching.
Portogruaro e Concordia Sagittaria
Portogruaro, few km from Caorle, to immerse yourself in history, culture and art of Middle ages and Renaissance.
Concordia Sagittaria, important Paleo veneto Site, which became a roman Colony with the name Julia Concordia. It is worth to visit its archaeological site.
Summaga and S. Maria Abbey with its evidence of the passage of the Templars, Sesto al Reghena where in its Basilica you can admire some frescoes of Giotto.
VENICE AND ITS ISLANDS
One of the most famous cities in the world, where history, nature and mystery meet, a visit to do at least once in a lifetime. Its Islands, priceless treasures of the lagoon: From the most famous to the most mysterious one like San Lazzaro degli Armeni.
Infos:www.veneziaunica.it
Treviso
With its fortified walls, the historical centre crossed by waterways, the "Loggia dei Cavalieri" and other beautiful sites, you can experience a medieval atmosphere.
Vicenza Palladian Villas
In the Unesco world Heritage list, Vicenza is a city to live on every corner …. From its old town to the Palladian Villas in the surroundings.
Verona
The city of Romeo and Juliet and the Arena where many different architectural styles meet, but also the city of VINITALY, one of the most famous events for those who love wine and distillates.
Padova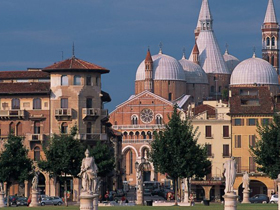 Padova, best known as the city of Saint Antony and the city of " tre senza" ( three without ), that is "the Saint without name" because people call him only "The Saint", the " lawn without grass" referring to "Il pratodella Valle" and " the coffee bar without doors" for the historic "Caffè Pedrocchi" that once was always open.
Trieste
Trieste with Miramare Castle, where once Princess Sissi lived, San Giusto Castle, the Karst and The "GrottaGigante" whose immensity offers a unique experience. The city of Italo Svevo and James Joyce, but also the place to see the "Barcolana", a famous international regatta .
FOR MORE INFORMATION
Ufficio IAT (Informazioni ed Accoglienza Turistica)
Telefono +39 0421 81085;
email info@caorle.eu
www.caorle.eu